As mentioned in the "About TEFL in China" tab, there are two paths to obtain the TEFL in China certificate. The following is an introduction to the online condensed course and the in-class course path,TEFL in China In-Class.
TEFL in China In-Class was developed in 2011 and consists of two parts – (1) a 40-hour condensed online EFL course and (2) an in-class (in-China) course. The core online course is designed for general English language teaching (ELT) and can be applied to a wide range of EFL students – young learners, secondary, university and adults. The aim is to equip teachers with an array of knowledge and techniques that will work in almost any classroom. This course contains the most necessary materials and discussions in order to give the trainees a foundation so when they join the in-class portion of the course the instructor will be able to build on that knowledge.
The online portion of this course consists of eight units. Unit 1 is an introduction to the course, Unit 8 is about visas, residence permits and other Chinese regulations, the other six units are related to ELT and Chinese culture.For most of the online units there is a quiz consisting of ten multiple-choice questions. Once all units have been completed.A final exam will be taken upon completion of all the units. The final exam consists of two parts: (1) Questions and (2) Essays
The in-class portion of this course is an intensive 7-day program, held in various locations and times within China. You will build upon the materials presented in the online portion. Besides lectures and activities related to the content of the course you will be involved in warm-up demos, lesson plan development and a micro-teaching. There is a final exam that consists of questions (multiple choice, matching, true/false) and essays.
Teaching Materials
1) Teaching materials provided by the TEFL in China Team.
2) "Teaching English in China " - the main textbook for foreign English teachers in China.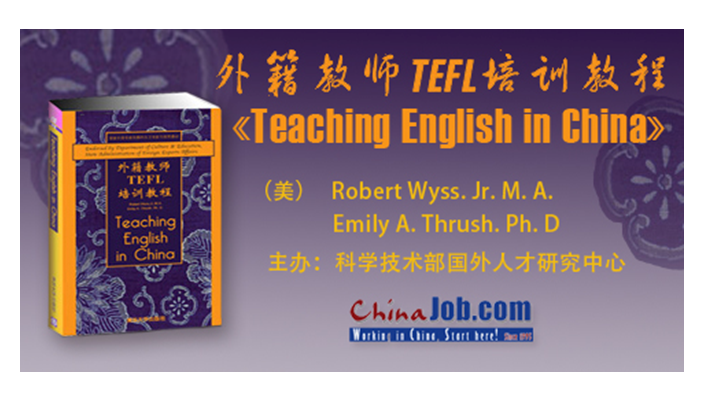 Examination
Each trainee's performance in the session is assessed according to group projects, in which participants develop lesson plans based on the approaches and methods discussed in class and then present the lesson to the class, micro-teaching of a mini-lesson by each participant, and the final examination. The maximum score in any session is 100%. Quizes accounts for 10%, Micro-Teaching accounts for 30%. The final examination accounts for 60%. Candidates who obtain a total score of 60% or higher will pass the TEFL in China certification.
Certificate
Candidates who attend the TEFL in China training will be awarded a TEFL in China certificate issued by the Foreign Talent Research Center, Ministry of Science and Technology (MOST). The certificate is officially recognized as a qualification for teaching English throughout China, and it provides an excellent credential for entering the TEFL profession.
Sample TEFL in China certificate: